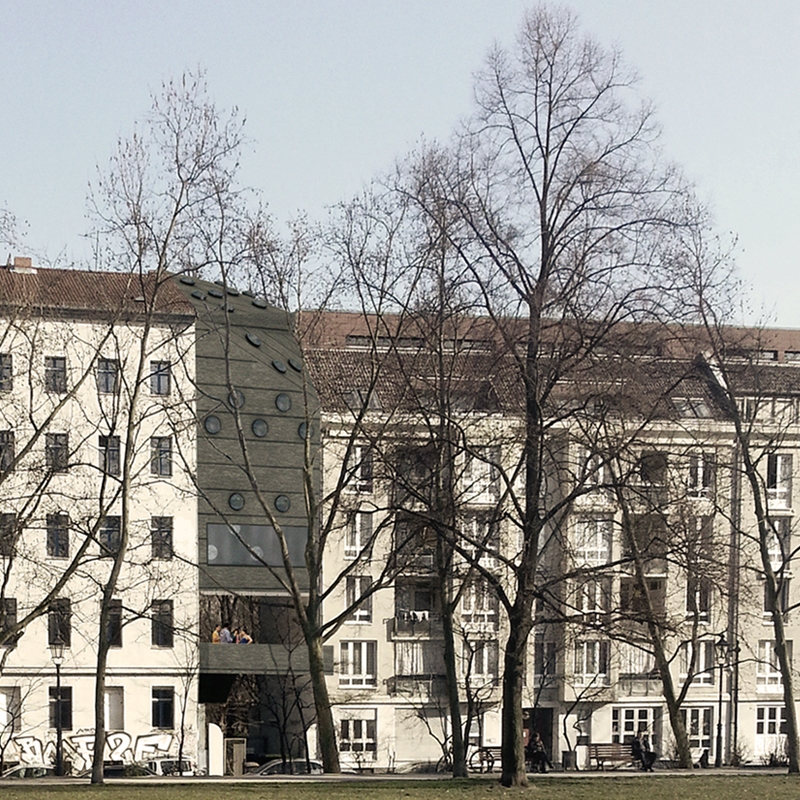 The design of a single family home fills the gap between two existing houses while leaving open and creating new space for the house community.

The roofs of the two houses are being connected with triangular surfaces and thus the gap is filled completely at the top. On the bottom an access to the yard is left open and a communal terrace is established. That way the city benefits from the new house by having the city block closed and the existing residents by getting a space to meet and communicate with each other.
In the winter the terrace can be closed with polycarbonate panels to create a climate buffer that insulates the new house from the bottom. The outer appearance is dominated by the typical material you usually find on flat roofs. Here the tar-bitumen roof sheeting covers the whole building since the roof and the facade blend into each other. Most of the windows are round roof windows adapted from the fakro® light tunnel series.
The inside of the house is a split level structure out of concrete that completes the development of spaces from public to private. The kitchen and living area level leads to the study room and further on to the main bedroom. The spaces circulate around a wooden core that contains secondary rooms, all the shelves and a library / guest room. The study can be separated from the circulation and turned into a kids room if necessary in the future.
Team:
Marc Benjamin Drewes, Eva De Bruyn